Best Chinese Restaurant
Twenty Years
In A Row
---
1996 - 1997 - 1998
1999 - 2000 - 2001
2002 - 2003 - 2004
2005 - 2006 - 2007
2008 - 2009 - 2010
2011 - 2012 - 2013
2014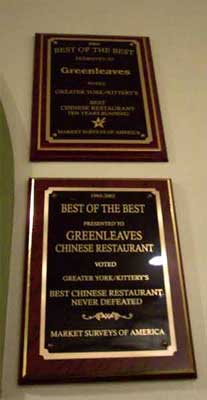 Green Leaves Restaurant & Lounge is honored to have won the "Market Surveys Of America" Award 20 years in a row as "Best Of The Best" in the Chinese Restaurant Category for Greater York and the Kittery's.

"The Great Wall" of Green Leaves Restaurant features many awards, including 16 plaques, various notoriety and sparkling reviews.

We invite you to dine with us and partake of our award-winning Chinese cuisine. We are sure that you will find our food fresh, tasty and a great value.

We are sure that you will be glad that you did.